Bob Pittman
Chairman and CEO
iHeartMedia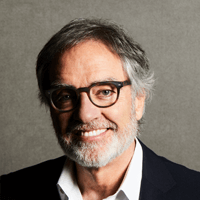 Bob Pittman is Chairman and CEO of iHeartMedia, Inc., the number one audio company in America.  With its over a quarter-billion monthly listeners, iHeartMedia has a greater reach than any other media company in the US.  The company's leadership position in audio extends across multiple platforms, including 850 live broadcast stations; streaming music, radio and on demand via its iHeartRadio service, which is available across more than 250 platforms and 2500 devices, including smart speakers, digital auto dashes, tablets, wearables, smartphones, TVs and gaming consoles; influencers; social; branded iconic live music events; and podcasts, as the #1 commercial podcast publisher globally.  iHeartMedia also leads the audio industry in its analytics and attribution platform and tools.
Pittman was the co-founder and programmer who led the team that created MTV. He has led some well-known industry transformations in television, music, real estate, internet and audio as CEO of MTV Networks, AOL Networks, Six Flags Theme Parks, Quantum Media, Century 21 Real Estate and Time Warner Enterprises and as COO of America Online, Inc. and later AOL Time Warner.  Pittman was a founding member of the New York-based Pilot Group investment firm, which had investments in companies like Thrillist, Daily Candy and OTX Research, and was the cofounder and original lead investor in Casa Dragones tequila.
Among many honors, Pittman has been inducted into both the Advertising Hall of Fame, the Cable Hall of Fame and the Broadcasting and Cable Hall of Fame; received AdWeek's first 'Media Visionary' award; was named one of Advertising Age's "50 Pioneers and Visionaries of TV" and "10 Marketers Who Changed American Culture ;" and received the International Radio and Television Society's Gold Medal, the Robert F. Kennedy Ripple of Hope Award and a Council of Fashion Designers of America (CFDA) Award.  He was also named Radio Ink Magazine's "Most Powerful Person in Radio" for nine years in a row (2011-2019); received the Broadcasters Foundation of America's 2016 "Golden Mike Award"; and was recognized in Life's "Five Original Thinkers of the '80s" and as the eighth of Life Magazine's "50 Most Influential Boomers."
Pittman began his career at 15 as a radio announcer in his native Mississippi.   He is also an avid pilot with over 6,000 flight hours; an Airline Transport Pilot's license ; and is rated for helicopters and 3 types of jets.