Fisk Johnson
Chairman and CEO
S. C. Johnson & Son, Inc.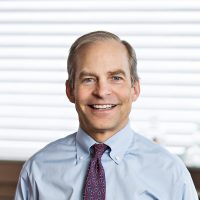 Fisk Johnson is CEO, Chairman, and Chairman of the Board of S. C. Johnson & Son.
Fisk serves as a member of the US President's Council of Advisors for Science and Technology. He also serves on the US Trade Representatives Advisory Committee for Trade Policy and Negotiation (since 2002) and the Consumer Goods Forum Board of Directors.  He served on the Cornell University Board of Trustees from 1993 to 2001 and now is a Trustee Emeritus and Presidential Counselor.  He has also served on the boards of Conservation International, and the World Business Council for Sustainable Development.
Fisk holds a B.A. in Chemistry and Physics; a Masters of Engineering; a M.S. in Physics; a Masters in Business Administration; and Ph.D. in Physics, all from Cornell University.
Fisk has received numerous awards for environmental and social leadership including CECP's Founders Force for Good,. The World Environment Center's Gold Medal for International Corporate Achievement in Sustainable Development, International Business Leadership Award – U.S. Council on International Business, two honorary doctorates,  among many others. .
Fisk is a devoted father who enjoys spending a great deal of time with his daughter. He is an accomplished pilot with over 2000 hours and flown multiple aircraft ,and is also an avid scuba diver. He also enjoys many outdoor sports.