Greg Davis
President and CEO
Davis Broadcasting Inc.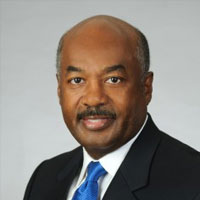 Mr. Gregory A Davis Sr. is the CEO and president of David Broadcasting Inc. He is a native of Fort Smith, Ark. He received his bachelor of arts degree in Biology from Lane College in Jackson, Tenn. Mr. Davis went on to serve in the United States Army both in the United States and abroad. He later went on to further his education and received his masters degree from Eastern Michigan University. Mr. David married Cheryl Hatchett and they have three children, Geniece, Michelle and Greg Jr.
Mr. Davis' professional career began in education as a community school director in Michigan. Mr. Davis began his 45-year broadcasting career in television, where he spent 12 years in marketing and sales management. Television broadcasting took him from Flint, Mich., to Detroit, where he joined ABC Television's national sales team in the Chicago, New York, Los Angeles, San Francisco and Detroit sales offices. He concluded his television career in Cincinnati, Ohio, as general sales manager of Multimedia Broadcasting.
Mr. Davis started Davis Broadcasting Inc., in June 1986 in Columbus, Ga., and August, Ga., by acquiring multiple radio stations, serving as CEO and general manager. Mr. Davis has also owned stations in Macon, Ga., Charlotte, N.C., and Atlanta, Ga.
Davis Broadcasting Inc. takes pride in serving the community each year by hosting annual events such as the Needy Children's Christmas Party, where over 1,000 toys and over 200 bikes are given away to the community each year. Another staple, the Family Day Music Festival (formerly Family Day in the Park), began 30 years ago as a free music concert for the families in the community. DBI also hosts other events such as the Jazz on the River concert series, Tools for School school supply giveaway, Free Drive in Movie, Annual Turkey Giveaway, Free Cuts for Kids and Styles for Girls, Spring Break Concert and Talent Show and the Annual Women's Empowerment Luncheon.
Greg Davis was recently inducted into the Arkansas Black Hall of Fame and the Georgia Association of Broadcasters Hall of Fame.