Mary Berner
President and CEO
Cumulus Media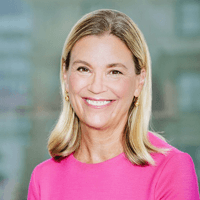 Mary G. Berner is a leading media industry executive who has led some of the world's top media companies and brands, building and directing companies to deliver strong value, financial performance, and growth. Throughout her career, she has consistently distinguished herself as an innovative leader and change management expert who has launched profitable new businesses, developed innovative digital advertising models, and successfully guided a re-focus or restructuring at several market-leading businesses.
In October 2015, after having served on the company's Board of Directors for six months, Berner was named President and Chief Executive Officer of CUMULUS MEDIA, a leading audio-first media and entertainment company with over $1 billion of annual revenue. CUMULUS MEDIA delivers premium audio content to over 250 million people each month through its 424 owned-and-operated stations broadcasting in 87 media markets, as well as nearly 8,000 stations affiliated through Westwood One, the largest audio network in the country, and over 90 digital and mobile distribution platforms, including its fast-growing podcast network. Under her leadership, the company reversed four years of financial and listenership declines. Only one year after joining CUMULUS MEDIA, Berner was named one of the 100 most powerful women in entertainment by The Hollywood Reporter, the only radio executive on that list. She's also been included on both Billboard's "Women in Music" and "Power 100" lists, and has been the highest-ranking woman on Radio Ink's "40 Most Powerful People in Radio" issue for the last four years. In 2019, Berner was recognized internationally as the Radio Company Executive of the Year by industry peers at the Worldwide Radio Summit. Berner was recently named a 2019 Gracies Leadership Award recipient by the Alliance for Women in Media Foundation.
Before joining CUMULUS MEDIA, Berner served as President and CEO of MPA—The Association of Magazine Media, where she leveraged her deep understanding of media to aggressively champion and advocate for the industry among advertisers, investors, consumers, and regulators. Most notably, she created and introduced The Magazine Media 360° Brand Audience Report, a groundbreaking tool that measures audience across platforms. It has been embraced throughout the industry, endorsed by advertisers, and is currently being adopted and implemented globally. In recognition of her work on behalf of the industry, Berner was named one of the "Top Women in Media" by Folio.
Berner previously served as Chief Executive Officer of Reader's Digest Association, the $2 billion global media and direct marketing company, where she developed and executed a successful turnaround strategy that ultimately led to a doubling of the stock price. She oversaw the restructuring of the company's acquisition-related debt, and optimized its brands and assets, including through the development of new digital revenue streams. Under Berner's direction, the company launched 83 websites and 31 mobile apps, and built Allrecipes.com into the world's first and largest user-generated recipe website.
Berner led Fairchild Publications, Inc., for more than five years, first as President and CEO of the standalone company, and later when it became a division of Condé Nast Publications, and she served as President and an officer of Condé Nast. Prior to Fairchild, she was Vice President and Publisher of Condé Nast's Glamour from 1995-1999 and Publisher of News Corp's TV Guide from 1993-1995. During her time at Fairchild, Berner was named Advertising Age's "Publishing Executive of the Year" and inducted into Media Industry Newsletter's Sales Executive Hall of Fame. She began her career selling advertising for a neighborhood newspaper in Boston.
A graduate of the College of the Holy Cross, Berner is active in several community and philanthropic organizations, serving on the boards of the National Association of Broadcasters (NAB), the Success Academy Charter Schools in New York City, the Fuller Project for International Reporting, Common Sense Growth (a for-profit subsidiary of Common Sense Media), and the Jesuit Volunteer Corps. Berner lives in New York City and has four children.